The California Coalition of Domestic Referral Agencies (CCDRA) is the only non-profit mutual benefit member organization of Domestic Referral Agencies (DRAs) in California. CCDRA was established to provide awareness and education of the regulations under which our business model operates, as well as to form a united group in the protection of that model. CCDRA members are owner and operators of DRAs.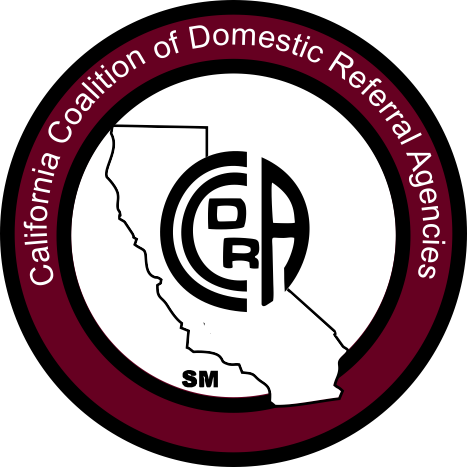 What Members Say
How real people feel about the Benefits of Membership with CCDRA.

J
Member Since 2001
"There are many reasons I am a member of CCDRA, following are but a few of the most important to my business and me. CCDRA has compiled the current Federal and State laws and regulations that govern our business model. I use this information to guide my business and train my office assistants in the Dos and Don'ts of the business. CCDRA, along with a legislative lobbyist when needed, monitor Senate and Assembly Bills and with the membership's help, fight proposed Bills that are sponsored by our competitors and if passed, would greatly hinder our businesses and ultimately "run us out of business."

T
Member Since 2005
"Being a member of the CCDRA has been extremely helpful for my business.  I have had numerous questions about how to handle certain situations and I know I can always count on the board members to lead me in the right direction.  All of my questions are answered promptly and professionally.  I feel good knowing that I always have a solid sounding board available to me for any good or sticky situations concerning the referral agency business.  I also learned a lot at the Workshop last year and will be attending again this year."

N
Member Since 2003
"CCDRA is a non-profit organization whose main purpose is to ensure the right for the Domestic Referral Agency business model to operate in California. To that end, CCDRA performs good works by strengthening the industry through educational workshops, an informative website, cost sharing of legislative advocates and access to a network of other agency owners. The service that CCDRA provides to members is invaluable. I would encourage all agency owners to join CCDRA to help ensure their own success by learning the state regulatory issues and to be a part CCDRA's on going campaign to ensure the right for all to operate under this business model now and in the future."

O
Member Since 2001
"CCDRA offers annual workshops that bring us up to date and refreshes us on the existing laws and regulations. I always come out of these workshops with valuable information to manage my business. CCDRA offers a daily connection with the Board, either by phone or email.  Information is there "just for the asking". I feel comfortable managing my business with all the tools that CCDRA offers me.  It gives me peace of mind and makes me not afraid of an audit."

R.
Member Since 2003
"I would recommend CCDRA to anyone who is serious about his or her business. The coalition is full of information and always ready to help. I'm a very satisfied member."